Brachy


Statistics
Type
Basic city
Location
North
Notable inhabitants
52
Brachy Town (Japanese: ブラチータウン Burachī Town) is the first town in Choro-Q HG 4, where the player begins his or her journey as a racer.
Background
Edit
Brachy is a typical middle-class town that has many landscapes, many commercial buildings such as the hospital, civic centre, school, etc. There is also a harbour. It is the player's hometown and home to the paint shop and bank for the player to use as service. The parts and body shops provide a vast majority of low income items and some at a moderate price.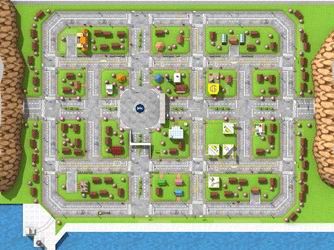 Buildings
Edit
Garage 1
Garage 2
Garage 3
Bulletin Board
Brachy Post Office
Boquet's Flowers
Letoba's Cafe
Brachy Police
Kaleri Fire Station
Murtica Hospital
Sobka Elementary School
Brachy Parts Shop
Paint Shop
Brachy Body Shop No.1
Brachy Body Shop No.2
Larc's Harbour House
Chitol's Photo
Brachy Park
Norahike's House
Obsuff's House
Renkol's House
Mistenka Civics Centre
Brachy Trust Bank
Choroyter Times
Team Ranolfka
Inhabitants
Edit
Known Tasks
Edit
Here's the rival!!
Here Are The Tough Chicks!
Meet Norahike by fate!
Heard about the Emperor!
Eskan challenges!
Mysterious bean story! (Secret Event Involved)
Stopped water hydrant!
Playing Chicken with Larc!
Delivered rust retardant!
Fish with Larc!
Caught the robbers!
Got birthday present 1!
Found Yaeko!
Donated to the hospital!
Rescue at construction site!
Norahike's harsh coaching!
Got birthday present 2!
Ran Sobka's errands!
Remodelled the garage!
Joined the team! (if deciding to join Team Ranolfka)
Got an ID!
Joined the police patrol!
Awarded the Medal of Honor!
Lottery tickets on sale!
Ran Morinka's errands!
Extinguished the fire!
Got birthday present 3!
A newspaper interview!
Visit Barat at the hospital!
Delivered Liche's love letter!
Fountain experiment!
Got birthday present 4!
Delivered police ID !
Got birthday present 5!
Meet Norkia!
It is unknown as to why there is an empty lot in the area of where the shops are located. It is likely that something was supposed to be in that area, but was removed during the game's development.
Appearances
Edit
Ad blocker interference detected!
Wikia is a free-to-use site that makes money from advertising. We have a modified experience for viewers using ad blockers

Wikia is not accessible if you've made further modifications. Remove the custom ad blocker rule(s) and the page will load as expected.