TakaraTomy's Latest Choro Q Release (Collaboration)
[TakaraTomy's Store]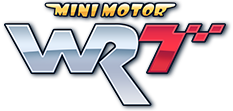 The little penny racers are back on a whole new adventure, but this time on the App Store as Mini Motor Racing WRT, the sequel to Mini Motor Racing, released in 2012. Race tracks, Level up, upgrade cars, join and battle in a club, battle in the league and rank up, be the best you can be! With the collaboration with TakaraTomy and The Binary Hill, the Choro Qs have returned once more...
NOW RELEASED FOR GOOGLE PLAY!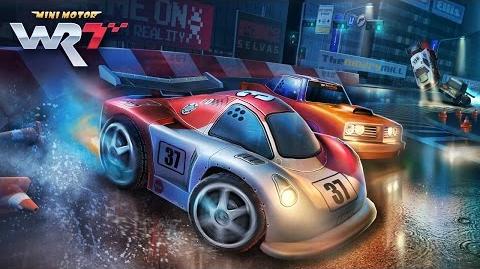 Choro Q of the Month!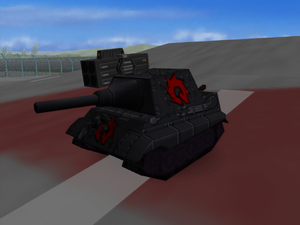 Marshal Volzol is a antagonist character in seek and destroy. He is the fifth Q-Stein commanding tank who commands the Q-Stein airforces' AP unit. He is only seen in Volzol's AP Unit. He controls the airport at Magscopic.



NEWS
3 March 2015
Springtime has arived early to the ChoroQ Wikia! Enjoy the new scenery by LunaHydreigon!
---
27 February 2015
LunaHydreigon will be introducing the Choro Q Disambiguation Page! This will decrease the unnecessary excess crowding on pages. She shall now be separating all the pages into pieces! For those working on the Choro Q Wii parts, please make sure to '(Choro Q ____)' the title if it contradicts with another page! She shall also be revamping the ugly mess of redirects and fixing up all the broken links it causes. This will take a couple of weeks but it shall be done. During that time there is still lots to do here so remember to check the stub articles!
---
14 February 2015
Happy Valentines Day! Let's give this Wikia and the Q Admins some love by giving it some edits this week! At this time LunaHydreigon is making possible new icons for certain pages such as the FAQ's mascot page will be replaced with new Choro Q HG 4 Icons that has been seen on a few pages, this is still being planned out to see how they will effect the wikia as they are GIFs which cause lag sometimes. There is still lots to do here so remember to check the stub articles and edit them!
---
1 January 2015
Thank you everyone for working hard to get this wikia up within a few months! We wish you a Happy New Year and hope to continue to create this wikia till it is completed! There is still lots here so remember to check the stub articles and edit them!
---
7 December 2014
We are happy to announce that there are now at least 173 stubbed articles left! This wikia is 87% complete! Thank you all that have helped us so far! Within over 7 months, we have made it to the goal to finally have it nearly complete! Many updates are to come as there is a plan to have a new seasonal background designed by LunaHydreigon! Also we would like to find users to start helping us set up the Penny Racers Party: Turbo-Q Speedway, Seek and Destroy, and Choro Q HG pages! There is still lots here so remember to check the stub articles and edit them!
---
30 September 2014
We are happy to announce that all the Choro Q HG 4 and Choro Q HG 2 Pages are remodeled and most are complete! Let's give a big clap to the admins and wikia users for this fantastic milestone! Thank you all for helping us come this far and helping Tigernose get this wikia back up and running after so many years! There is still lots here so remember to check the stub articles and edit them!
---
8 September 2014
Lets give a very late welcome back to: Crescendospectredagon who has now joined our ranks as admin!
We shall now update our two statuses
- LunaHydreigon has now checked around approximately 763 wikia pages and fixed their templates! Though over 3/4 of the pages are incomplete! They need your help to be filled out! Be sure to check the Choro Q FAQ for more information on how to edit templates!
- At this time Crescendospectredagon is currently updating the long to be completed Choro Q HG 3 Pages!
Everyone is working hard and we hope to finish our inspection and begin fully adding pictures and fixing unnecessary errors and issues also! If you want to help check the stub articles or our public To-Do List!!!
---
23 July 2014
We have reached a milestone! LunaHydreigon, Gerarghini and Royaltf427 all have been working hard to cover all of the pages on this wikia! At this time this wikia is 25% Checked and Reviewed! Congratulations to everyone! We will continue hard on the work to make this a great wikia!
---
4 July 2014
Happy Forth of July for Americans!
LunaHydreigon and Collagen have been made as Admins!
All Gadget Racers (EU) will be changed into Choro Q HG 3 to cause less confusion!
All ChoroQ (USA) will be changed into Choro Q HG 4 to cause less confusion!
---
23 June 2014
LunaHydreigon and Collagen are working as much as they can do as regular users on making sure everything is up to date with this wikia!
ADMINISTRATORS

Gerarghini - Wikia Owner

---

LunaHydreigon - Admin

---

Collagen - Master Coder

---

Crescendospectredragon - Admin
MAIN NAVIGATION

Games
Characters
Landmarks
Parts
Stamps
Race Tracks
CREATE
Anyone can contribute to this wiki! Just type in the article you want to make below, and press Create. Remember that there may already by an article already made about the thing you want to write about, so be sure to check by using the search button!