Diez


Information
City
Cloud Hill
Gender
Male
Car
Sky Blue Ford GT40
Recruitable
Yes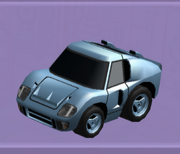 Diez
is a professional racer in
Cloud Hill
. He is very superior in racing like
Peo
, who is also rivals with him. In
Choro-Q HG 2
, he says he likes to take a drive and think for a while. He drives around
Cloud Hill
passing people like
Peo
. In most cases, he will come first place in the races he participates in.
(Before recruiting him) "Hey, how did you get here? You are confident about your driving? Nice, I like you. You have a team, right? Will you add me to your team? You'll have to replace someone. Okay?"
(Declining his request) "Oh, too bad. Come and get me when you need me."
(Recruiting him) "It always feels nice to be on a new team. It's nice to be on your team."
(Whilst on the team) "Hi. Racing is hard. That's what makes it fun."
"What do you do when you're not racing? I like to take a drive and think about stuff."
(if the protagonist is president, before recruiting him) "Hey! You're the new President. Wow! I knew you would become the new president. I respect you! Your teammates must be happy. I'm doing well in races! What do you think? I'm sure I'll do better on your team! Let me in!"
(if the protagonist is president, declining his request) "Oh, I see... I thought you'd pick me for your teammate."
(if the protagonist is president, accepting his request) "Wow!! Really??? I knew you needed me for President's Team! Your old teammate is nothing compared to me!"
(if the protagonist is president, whilst on the team) "Oh! Mr. President! Hello. The Cloudhill race is hard, but since you are the president, it must be easy for you."
(if the protagonist is president) "By the way, did your life change after you became the President? I'm so envious. I would want to experience that. Well, but I like my life now. I get to enjoy the simple things."
Diez would also be a returning racer in Choro-Q HG 3, he is a racer in the World Grand Prix, but known as Ditz. He is one of the fastest racers on the track which he can reach speeds of 300km/h on some tracks, which makes him impossible to catch up for many players.
Diez is the fastest racer in the game (hopefully alongside the player, that is!)
Diez's starting grid position is 1st.
Appearances
Edit
Ad blocker interference detected!
Wikia is a free-to-use site that makes money from advertising. We have a modified experience for viewers using ad blockers

Wikia is not accessible if you've made further modifications. Remove the custom ad blocker rule(s) and the page will load as expected.