Ryoji


Information
City
My City
Gender
Male
Car
Green/Orange Mazda 787B
Recruitable
Yes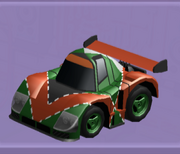 Ryoji
is a Choro-Q that drives on the outskirts in
Sandpolis.
He wanted to build a school somewhere and you tell can him about
My City
. When Ryoji is in My City, he says that he wants to be part of your racing team so that "you can teach your students how to bring up a victory". When Ryoji moves into My City,
Gump
moves in as well. Ryoji's school is located at the end of the north-south road that runs down the center of My City, between
Sally
's house and
Flower
's house.
(Before telling him about My City) "I travel all over to teach kids various subjects. But you can see I'm getting old. So, I'm thinking about settling down in one area."
"If you find a perfect place to open up a school please let me know."
(If you discovered My City) "Do you know of a large and peaceful area to open a school?"
(Not telling him about My City) "Oh, please inform me if you find a place like I described."
(After telling him about My City) "A perfect place called My City? This city was built recently? It sounds very interesting! I have to go check this out. Thank you for the information!"
"Oh, it's you. I'm preparing to move to My City. I can't wait!"
"Well, hello there! What do you think? I built this nice school all because of you! I don't know how to thank you. By the way, do you like to study?"
(After you agree to study) "Oh, that's what I thought. I always thought you were smart, from the time I met you! So, how is racing? I'm doing well. It's all because of My City!"
(before recruiting him) Well, I'm settled here now, so I want to put more effort into racing. If you have any plans of switching one of your teammates, will you let me join your team?
(declining his request) Oh, I see. I wanted to teach the students how to cooperate with a team.
(accepting his request) Thank you! Now, I can show my students a different side of me. By racing, I teach them to do their best. I'll do my best, instead of your old teammate.
(whilst on your team) Well, your way of driving is very popular with the students!
Please come and visit us again!
Ryoji's name in My City is a typo, as "Roji, teacher"
None of Ryoji's students are seen in the game.
Ryoji is close to sharing a body with The Goddess
Ryoji's body carries the colors of the Le Mans-winning 1991 Mazda 787B, but it does not have any of the decals on it.
He returns to Choro-Q HG 3 as a racer named Royji.
Appearances
Edit